Suffolk Moth Group Newsletter
Issue 27 - Winter 2002
Edited by Tony Prichard
In this issue
Editorial
Another mothing season draws to close and this issue of the newsletter has finally made it off my computer. My impression is that 2002 will not remembered as one of the great mothing years but I seem to have been saying that for the last few years. That said there have been some highlights which will be remembered which are covered later on in the newsletter.

As I put this newsletter together I thought I was running a few weeks later than I had planned but on checking over the material I realised I've managed to miss out the August newsletter! Only one person had commented that they had not yet received issue 27 and being a sole voice I just thought they were rather keen to receive the newsletter. Apologies for this. Before I hear mutterings from paying subscribers about being diddled out of their promised four copies for £2 I thought I had better chip in and say that there will be no subscription charges for existing subscribers for 2003 - a whole year's subscription for free - what a bargain! At the current moment £2 more than covers the production and distribution costs of the newsletter and surplus funds are accumulating which I do not really want to happen.

This year has seen another busy field season for the group, in addition to the usual Friday night venues moth nights have been held on most Saturdays and occasionally mid-week. Once I have completed sending out this year's field reports to the site owners I will be thinking of venues for next year's programme. If anyone has any suggestions for venues then I would be keen to hear from you, especially if the venues are in the under-recorded areas around Newmarket, north of Lowestoft or north of Framlingham.

This issue has write-ups for thirty-five field meetings so in the main I've kept comments rather brief. Trying to make thirty-five field reports sound interesting is rather beyond my literary creativity. Many thanks to those people who have contributed articles to this issue the more people who contribute to the newsletter the more interesting it will be for everyone.

The group will be continuing its survey work on the Lunar Yellow Underwing larvae in the Sandlings this year. Gerry Haggett has previously been finding the larvae in the Brecks from December onwards. If you are interested in getting involved in this survey - which did have some success earlier this year - then give me a ring.

National Moth Night 2003
National Moth Night for 2003 is being held on the 12th April next year. I will be leading a Butterfly Conservation (Suffolk Branch) moth evening at Minsmere RSPB reserve to which members of the moth group are welcome to come along - there's normally a greater SMG than BC contingent at these meetings anyway. The target species for the night are the Orange Upperwing and Sword-grass, although it is unlikely that we will be recording these species on the night.

A special web site has been set up, giving information on NMN 2003 and can be found at http://www.nationalmothnight.info

A cautionary tale - for all those in a rush to peer in to see what's in the trap!
I was reading in the latest issue of the Norfolk Moth Survey's newsletter which tells of a public event where a trap bulb exploded resulting in a girl receiving a nasty cut to her leg. A few minutes earlier along with others she had been eagerly peering into the trap to inspect the contents, with her face much closer. The situation could have been much worse had the bulb exploded a few moments earlier.

I already have moth trapping risk assessments for the moth group and as part of my work as Moth Conservation Officer for Suffolk Branch of Butterfly Conservation. However, I think that the way we handle public events in the future will need to be re-evaluated to reduce the risk of such an event occurring at one of the group's moth nights.

Suffolk Moth Record Database
Over the winter of 2001/2002 I was busy spending many many hours sitting in front of Recorder 3 entering the 25 thousand records received for 2001. The good news was that the number of records in the database passed the 100 thousand mark. The bad news was that my Recorder 3 program started to creak and groan with this large number of records, making it difficult to run queries on the data. In addition, the scripts I use to handle the Suffolk Moth Panel validation of records also started to suffer from the strain of processing that number of records. Time to seriously look for a replacement I thought.

Currently there appear to be two main popular and not so popular recording packages; Mapmate and Recorder 2000, which I have considered and evaluated for use as a replacement for Recorder 3. Mapmate is popular with quite a few recorders within the group but, in my opinion, lacks certain features for managing records that I regard as essential for a county recorder. It also has quite a simple data model. Recorder 2000 was developed as replacement for Recorder 3 but having heard comments from people who have used Recorder 2000 it would seem that this is not a suitable replacement either. Recorder 2000 has a complex data model.

Since then I have been busy developing my own replacement recording software which sits, in terms of complexity of the data model, somewhere between Mapmate and Recorder 2000. I will now be using this program to hold the county moth records. One key advantage of this program is that it automates the Suffolk Moth Panel validation process and partitioning of validated/unvalidated records - this previously involved a lot of manual processing and updating by myself of records in Recorder 3. It has an record import facility which will accept records in spreadsheet format and this means that if recorders can send in electronic copies of their records this would greatly reduce my workload. I don't fancy another year of manually entering 25 thousand records. The preferred format for data being submitted as spreadsheets is detailed in issue 24 of the newsletter, although as ever I will accept records in almost any format.

Currently I am migrating the records from Recorder 3 to the database and this should be completed in the next few days.

This will hopefully result in less time spent by myself over the winter entering records received for the year and with the automation of the SMP process I should achieve a more speedy follow-up on records that the SMP highlight for querying.

Suffolk Moth Group Indoor Meeting 2003
The Ipswich museum has been booked again for the second indoor meeting of the SMG on Saturday 1st February 2003 from 10.30am - this meeting to all members of the moth group and their guests. Tony Davis, of Pyralid Recording Scheme fame, who has recently joined Butterfly Conservation will be the main speaker. I'm not sure of the precise title of his talk but it will concentrate of the Suffolk BAP species.

The format of the meeting will follow similar lines as last year, with some waffle from myself about recording during the year, a chance for members to show some of their moth slides (so please bring some along), hopefully a chance to view the museum collections (I've still to confirm this). I will be trying to bring a PC projector again this year so members will also be able to show digital photos on CD. If you are thinking of bringing along digital photos then it would be a good idea to check that I have been able to book the projector and lap-top.

Please bring your own lunch, although the Greyhound pub just up the road serves rather good food. There should be a table for any exhibits if you have any, so please bring any you have along. If there are any other things that people would like to add to the agenda then please let me know, as it reasonably flexible.

This is a chance to bring along any specimens for identification (especially pyralids bearing in mind that Tony Davis will be present).

Moth trapping at Dungeness and a Scarce Dagger - by Matthew Deans
On the morning of Saturday 3 August 2002, I telephoned Dungeness Bird Observatory to request permission to moth trap in the area, in the hope of seeing some Kentish specialities, notably Sussex Emerald and Pale Grass Eggar. This proved no problem so I travelled down to Kent with fellow moth-er Lee Gregory. Having driven down through patchy heavy rain, we arrived at the observatory early evening, were welcomed by the staff and were shown a Scorched Carpet, Black Arches and a Sussex Emerald which had been trapped recently! The first two despite being excellent observatory records are garden moths for me here in Suffolk, but I was delighted to have seen my first Sussex Emerald. An inspection of the outside walls of the observatory produced a Pigmy Footman and that rather attractive micro Ethmia bipunctella.

Two M.V. and one actinic trap were set up in an area known as the Long Pits - an area of shingle with sallow and aspen scrub and not far from the reed-fringed gravel pits. The lights were turned on at dusk on this warm, humid and overcast evening. Soon the first Pale Grass Eggars appeared and moths started arriving in droves. Some more interesting species recorded during the evening were Poplar Lutestring, Reed Dagger, Double Kidney and about a dozen Cydaena dentalis.

Another Suffolk moth-er Stuart Read joined us late evening. He had travelled down in torrential rain reporting that the Suffolk roads were like rivers! At around 1.30am rain arrived at Dungeness and appeared to be getting heavier, I decided it was time to pack up! In the rush as the rain lashed down, a strange Knotgrass was potted up for further inspection along with a Pug, a Dart and a few micros.

Shortly after dawn on Sunday morning, photographs were taken of several species retained and identifications made of White-spotted Pug and White-line Dart. The strange Knotgrass exhibited an orbicular stigma with a central dot (eliminating Light Knot Grass) and had the distinct dagger mark of a tornal streak making it a Scarce Dagger. Once we realised the enormity of the record it was shown to David Walker and Barry Banson at the observatory and Sean Clancy. David kindly showed us the contents of his trap which included more Sussex Emeralds and a superb Toadflax Brocade.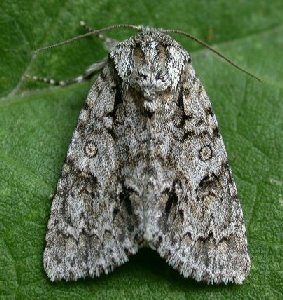 Scarce Dagger © Matthew Deans
Previous records of Scarce Dagger at Dungeness were on 12 August 1932 and 4 August 1933. There have been about sixteen British records since this former breeding species became extinct around the turn of last century. This was apparently the first UK record since 1996!

Stag beetles caught at light - by Neil Sherman
In June this year, I found a female Stag beetle in one of the moth traps at Ipswich golf club. I had never seen this species at light before here or anywhere moth trapping in Suffolk. The Lesser Stag beetle however is quite common most years. After discussion with Colin Hawes, Stag beetle researcher and recorder, he said that this is probably the first one recorded by this method since Morley's time (early last century). He would be very interested if moth trappers have caught any others; in fact any records of Stag beetles would be of interest. Please send all sightings to him at the following address:

Colin Hawes
3 Silver Leys
Bentley
Ipswich
Suffolk
IP9 2BS.

Duponchelia fovealis - A Pyralid moth new to Suffolk - by Matthew Deans
On Friday 16 August 2002, Lee Gregory visited myself at Rendham to view and photograph a Dewick's Plusia I had light-trapped the night before. Whilst in the living room a micro-moth was spotted at high level on one of the walls near to the ceiling. I fished out my net and safely secured the moth which I recognised as a being a pyralid superficially similar to Dolicharthria punctalis, which I had seen on the south coast the week before. A quick flick through 'Goater' saw me at plate 8 with no identification having been made! Then Lee suggested it may be Duponchelia fovealis as he remembered seeing photographs of that species in 'Atropos'. After comparison with the plates in 'Atropos' the moth was easily confirmed as D. fovealis. The moth was duly photographed in the conservatory, with net at the ready should it try and escape!

The identification was straight forward but the origins far more interesting. Was it a migrant that arrived the same night as the Dewick's Plusia and somehow made it into the living room, perhaps on my back when coming in from emptying the trap that morning? Or was it an import on plant material? Of the ten or so previous U.K. records, a high proportion have been found in similar circumstances inside houses.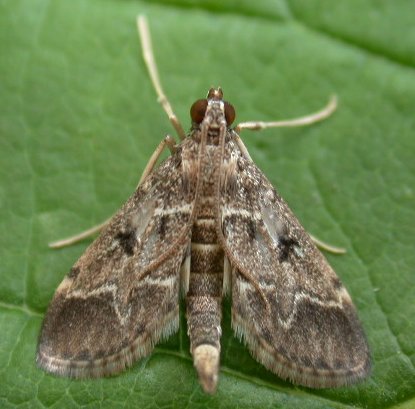 Duponchela fovealis © Matthew Deans
It was sexed as a male, as the specimen exhibited a wedge-shaped cream fovea on the forewing - thus giving the moth its name - fovealis. Records from Norfolk and Essex have been published in 'Atropos' but this appears to be the first for Suffolk. It occurs naturally in the Mediterranean and the Canary Islands but has been recorded in other European countries where it has become a pest. Fortunately my specimen was a male so hopefully no more will found!

Insect cabinets for sale
The Natural History Museum regularly has surplus/redundant insect cabinets for sale at 'very competitive' prices. The money from these sales is used to purchase new, standard cabinets/drawers to house the National Collection.

If you looking for a cabinet then please contact Howard Mendel supplying the following information
Number of drawers required
Continental or English depth drawers
Preference for a named maker or no preference for maker
Any preferred wood type (deal/mahogany/oak/other/any)
Door preference (wood/glazed/none)
Would you consider cabinets in need of refurbishment
Price (within range of £10 - £75 per drawer) that you are willing to spend
Name/Address/Telephone/Email details for yourself
Any other personal requirements
Howard can be contacted via email at h.mendel@nhm.ac.uk or via land-mail at
Howard Mendel (Collections Manager)
Department of Entomology
The Natural History Museum
Cromwell Road
London SW7 5BD

The purchaser is responsible for collecting the cabinets (Howard says they will help load the cabinets into the vehicle). I gather some people have used removers, in which case the museum are happy to supervise at their end.
Reports from recorders around the county
Records reported here have not yet been verified by the Suffolk Moth Panel.

Moths at Rendham - June to September 2002 - by Matthew Deans
June
The month got off to a flying start with Lobster Moth, Least Black Arches, Alder Moth and Small Angle Shades all recorded on the 2nd - all notable here at Rendham. Some interesting geometers appeared during the month including Small Emerald, Treble Brown Spot, Spinach, Barred Yellow, Blue-bordered Carpet, Twin-spot Carpet, Currant and Foxglove Pugs, Brown Silver-line (an unusual sight here!) and the first Orange Moth of the year on 25th. It was a good year for the highly variable Ingrailed Clay, Green Silver-lines and the Large Nutmeg - recorded on the 8th, 12th and 15th. National Moth Night on the 15th yielded 63 species the most interesting being a Broad-barred White - a rare visitor to the garden.

On the night of the 19th a moth flying outside the kitchen window was captured and identified as a Bordered Straw - the second garden record and a pristine specimen after a dull individual last year. Another garden second came the following night in the form of a Water Ermine. Beautiful Golden Y was recorded on six nights this month and the Plain Golden Y in lower numbers this year with just the one on June 20th. The Marbled White-spot appeared on the 20th with a further record in July. Garden Tiger made a welcome comeback after a total absence last year and appeared on 25th. Hawk-moths peaked at eight Poplar on 2nd and three Privet on 29th. Three each of White-point and Turnip were recorded during the month.


| | | |
| --- | --- | --- |
| | | |
| Bordered Straw © Matthew Deans | | Water Ermine © Matthew Deans |
Amongst the micros were Argyresthia curvella (8th) and two Argyresthia cupressella (on 20th and 25th). Pyralidae included Phlyctaenia perlucidalis (15th and 17th), Orthopygia glaucinalis (17th), Pempelia formosa (20th) and Myelois circumvoluta (17th).
July
The month started with single Orange Moths recorded on 4th and 6th. Two Swallow-tailed Moths came to light on 4th and the first of many Magpie Moths this month was found on the garage wall which had been illuminated on the evening of 7th.

Some species which I regularly see out with the SMG are rare here, like the Peach Blossom which turned up on the 24th - only the second garden record.

I had been reading Roy Leverton's 'Enjoying Moths' book and admiring the photo of a Muslin Footman on the evening of July 16th. The following morning by sheer coincidence a singleton of this species was found in the garden trap and I knew instantly what it was! This very local moth in Suffolk proved to be the highlight of the month. The same night also produced Ostrinia nubilalis, Udea ferrugalis, Bordered Pug, White Satin, Garden Tiger, three Olive and a Lunar-spotted Pinion.

Muslin Footman © Matthew Deans
A Round-winged Muslin on 22nd provided good comparison with last weeks Muslin Footman. Other interesting macros this month included Varied Coronet, Miller, Double Lobed and Reed Dagger.
The gelechid Monochroa palustrella was regularly recorded this month. Tortricids included Aethes rubigana, Lozotaenia forsterana, Cnephasia longana, Argyrotaenia ljungiana (29th), Acleris holmiana and Acleris laterana. The best of the pyralids were Phlyctaenia perlucidalis, Ebulea crocealis and three Ostrinia nubilalis (during 16th -24th).
August
I was away for most of the first week of the month mothing on the south coast. The Rendham trap was first run on the 8th with Bordered Beauty being new for the garden and a Black Arches a rare sighting here.

Dark Spectacle appeared on 12th with another on the 15th. These were the first garden records since a singleton in 1999. Bulrush Wainscot was also trapped on the 12th.

The trap was run on the night of the 15th with the intention of recording Square-spotted Clay for another season here. Inspection of the contents the following morning revealed a singleton of the target species so I was delighted. Then I found a Dusky Thorn, Twin-spotted Wainscot, Gold Spot, White-point, Olive, Calamotropha paludella and a superb Dewick's Plusia - only the second County record. The 16th was a day to remember, not only for discovering the Plusia, but later on that day the pyralid Duponchelia fovealis was found in my living room!

Dewick's Plusia © Matthew Deans
Another excellent night was the 18th with three Square-spotted Clay recorded along with Dusky Thorn, Lesser-spotted Pinion, Dark Sword-grass and Galleria mellonella.
A Treble-Bar on 21st was the first record of the year with none recorded during the first brood. The month then took a decidedly autumnal turn on the 28th with the first Frosted Orange and Centre-barred Sallow recorded along with another two Dusky Thorn - good numbers of the latter continued to be recorded in September outnumbering Canary-shouldered Thorn.
September
Large numbers of Setaceous Hebrew Characters appeared in the first week of the month peaking at 45 on the 3rd. The following night saw 65 Square-spot Rustics in the trap. Rosy Rustics were recorded in good numbers but fewer Flounced and Six-striped Rustics this year.

The second Bulrush Wainscot of the year appeared on the 2nd and more Dark Spectacles were recorded - one on 2nd and two together on the 4th. Three Feathered Gothics appeared on the 2nd, 4th and 6th; as I had digitally photographed them it was possible to determine that they were different individuals - the wonders of modern technology! The last Square-spotted Clay of the year was on the 2nd, I will be searching here for the larvae in the Spring.

Good numbers of the Centre-barred Sallow were recorded in the first half of the month. The Sallow first appeared on 2nd and a single Orange Sallow was trapped on 17th. Brown-spot Pinion and Lunar Underwing both appeared on 10th and 16th respectively. Brindled Green and Feathered Ranunculus were first seen on 19th. The last week of the month produced the first Mallow Moth of the year on the 24th, Beaded Chestnut on 26th, 3 Barred Sallows on the 29th and a superb Merveille du Jour, Grey Shoulder-knot and the Satellite on the 30th. A notable absentee was the Red Underwing with no records this year.

As expected micros were lean this month, the most interesting being Agriphila latistria on the 2nd, Cochylidia implicitana on the 4th and Plutella porrectella on 19th.

Migrants included the second Bordered Straw of the year on the 3rd on the outside of the trap. Single Dark Sword-grass and Nomophila noctuella, three White-points and a few Silver Ys and Plutella xylostellas were also recorded.

In the quieter second half of the month I turned to leaf miners to boost the garden list! With the help of Tony I managed to record Stigmella ulmivora, basiguttella and anomalella; Lyonetia clerkella and the Phyllonorycters: corylifoliella, coryli and nicellii.

Moths at Ipswich Golf Club - June to September 2002 - by Neil Sherman
June
Lights were run at the golf club on 9 occasions this month, with a gap during the second week while I was away on holiday. There were a few good nights mid-month (amongst the seeming standard wet, windy or cold ones!) with warm humid cloudy conditions, with one of these (17th) producing the highest list for the year at the site so far – a total of 115 species.

There were some interesting records during the period, with the number and variety of species on the increase as the month progressed. Of possible note on the macro front were: Festoon (recorded on 3 dates), Eyed Hawk-moth (normally only 1 or 2 a year but this season there have been 4 – this increase seems to have been reflected across the county), Tawny Wave (on the 5th), Orange Footman (continuing its good fortunes here with 20 recorded on the 5th + 10 recorded on the 6th at different positions around the site), Grey Arches (another species having a good season with 1 on the 16th, 5 on the 17th and 2 on the 25th), Alder Moth, The Miller (on 2 occasions), Peach Blossom (3 on the 16th was a good count), Common Lutestring, Pinion-streaked Snout (2 on 17th), Lilac Beauty (17th + 2 on 25th), Shaded Fan-foot (5 on the 17th the first of the year), Sloe Pug, Lunar Yellow Underwing (on 2 dates) and Small Emerald (24th).

Shaded Fan-foot © Neil Sherman
Micros noted during the month were Opostega salaciella (4 on the 16th), Phtheochroa rugosana (this White Bryony-feeding tortrix has become an annual visitor in recent years), Sitochroa verticalis and Lozotaenia forsterana (1 of this huge tortrix on the 25th).
The 15th June was National Moth Night, and as usual I support the event by running a trap at the site. This year the moth group (myself included) went to Barnhamcross common, the trapping not finishing there till about 3 a.m. Once back to Ipswich, as it was getting light I went straight to the golf club (dodging the milkmen!) at 4 a.m. to go through the catch. I got there just as the heavens opened so the trap was rushed under cover to sort through! 63 species were recorded, of possible note being Schoenobius gigantella and 3 Blotched Emerald among the more usual species. Only then did I go home for some well-earned rest!
An adult Broad-bordered Bee Hawk-moth was seen on the 7th, feeding at honeysuckle flowers followed by the first feeding signs of young larvae on the 18th. The small round holes they leave either side of the midrib of honeysuckle leaves are very easy to see once you know what to look for. Also found during the day were Mullein caterpillars (on the 24th, fully grown) and a Dingy Shears larva (found in a bat box – good to find something using the box although it is not the intended occupant!). Also a few Silver Y have been flushed up from heather, but none have appeared at light as yet.
July
What a month July was this year. The second half was complete contrast to the first – what started as a damp cool month with low moth numbers soon changed to high temperate and humidity, with equally rising moth numbers. This culminated at the end of the month, with the Suffolk Moth Group night at Thorpeness Mere and Reedbeds on the 26th when we recorded a group record 251 species (so far)! The Golf Course also recorded its highest ever total within that period, with 165 species noted on the 30th. Lights were run at the site on 14 dates, with totals consistently over the hundred mark during the peak period.

Of possible note on the macro front during the month for the site were: Festoon (recorded on 4 dates after appearing last month), Common Lutestring, Grass Emerald (in good numbers), Least Carpet (3 records during the month including a female – I also found one at Sainsburys while doing the shopping at the end of the month!), Dark Spinach (a immaculate specimen on the 29th), Chevron (2 tatty individuals on the 30th), Bordered Beauty (one of this beautiful species on the 22nd), Chocolate-tip (good to see back in numbers after a few bad years), Black Arches (46 recorded during the month was a good total), Purple Clay (2 appeared on the 3rd), Beautiful Yellow Underwing (normally see during the day, but 15 appeared at light on the 30th), Antler, Suspected, Svensson's Copper Underwing (2 amongst a haul of 8 Copper Underwings on the 30th), Straw Underwing ( the first of what will be many more appeared on the 28th), Olive (2 recorded on the 25th), Slender Brindle (another species having a good year at several sites across the county including here), Scarce Silver-lines (2 records of this attractive species) and Shaded Fan-foot (18 individuals recorded at different locations across the site).


| | | |
| --- | --- | --- |
| | | |
| Bordered Beauty © Neil Sherman | | Least Carpet © Neil Sherman |
On the migrant front, the warm conditions prompted some movements with a Gem appearing on the 29th, followed by a Dark Sword-grass on the 30th along with the usual commoner migrant Silver Y and Plutella xylostella.
July is peak month for micros, and the following were of note at this site. Ypsolopha dentella (15 in the trap on the 22nd was exceptional), Calybites phasianipennella, Ypsolopha sylvella (1 of this localised species on the 29th), Ypsolopha scabrella (on the 22nd), Agonopterix nervosa (the first of the year on the 25th), Acleris boscana (a fresh specimen on the 3rd – has normally been found here in the winter and early spring), Hedya salicella (on the 7th – a large bird dropping mimic!), Pammene aurita (=aurantiana)(on several dates, always near the foodplant, sycamore), Schoenobius gigantella, Evergestis extimalis (recorded 3 times) and Sitochroa verticalis (found during the day on the 8th + another at light on the 20th).
On the 10th, an adult Hornet Moth was found at 7.45-a.m. crawling up a poplar tree trunk (the foodplant) during a specific search for the species – it was only the second tree checked! Emergence holes have been seen in the wintertime on these trees, proving the species breeds on the site. Also found, yet again, demolishing the roses in the Clubhouse flowerbeds, were larvae of the Emperor Moth. Caterpillars of this very common moth have also been seen on the more typical foodplant, heather.

| | | |
| --- | --- | --- |
| | | |
| Hornet Moth © Neil Sherman | | Gem © Neil Sherman |
August
August 2002 had some good spells of mothing weather, but these were normally quite short. This pattern has been taking place all year, with warm conditions for a short period followed by a spell of bad weather, this cutting short the flight period of some species. Still 229 species were recorded during the month (127 macros). A factor which came into play at the end of the month here was the large numbers of wasps around – they were present almost every night culminating with 2000+ in one trap on the 26th! (I have since discovered during September that there is a nest only a few metres away from the trap position!). There were no moths present with the wasps having eaten them all. I had to just lift the lid and let them disperse in their own time! This resulted in having to relocate the trap to a new site – no wasps have appeared there yet!

Macros of possible note seen included Black Arches – this has been in higher than normal numbers here all of this year. The Hedge Rustic has also been more common, with between 8 – 10 a night from mid month onwards. The Pine Hawk-moth was last seen on the 15th, when 2 were caught. This is a month and a half after Skinner states they are supposed to fly. The Poplar Hawk-moth also came to an end, with the last on the 19th. Also seen that night was a Webb's Wainscot the second record of one at light. Two other species doing well this year are White-line Dart (up on last year's low numbers) and the Pinion-streaked Snout (maximum 4 on the 19th). Two closely related species appeared together on the 11th – the Campion and the Lychnis, allowing close comparison. The pretty Bordered Beauty reappeared, with one trapped on the 12th. The BAP species Lunar Yellow Underwing continued to appear erratically with singles on the 13th and 18th. Another BAP species trapped mid month was the Square-spotted Clay (on the 18th + 19th in different locations across the site). Also of note was the second Tawny Wave of the year on the 29th. Other records of interest were Beautiful Yellow Underwing (15th), Cream-bordered Green Pea (18th) and an Old Lady (24th). Two species that have been notable due to their low numbers so far have been the Flounced Rustic and the Feathered Gothic (2 in the last week of the month), but they may pick up in September.

On the migrant front, the Silver Y has been very common, but not at light. Large numbers were seen feeding on heather flowers, most of them probably the result of breeding of earlier immigrants. Also appearing was the White-point, regular at the end of the month with a maximum of 4 on the 24th.

Micros dropped in numbers from their July peak. Of possible interest were: Stenoptilia pterodactyla (6th), Clavigesta purdeyi (also on the 6th), Recurvaria leucatella (7th), Hypatima rhomboidella (12th), Monopis obviella (18th), Acleris rhombana (first of the year on the 18th), Caloptilia populetorum (3 on the 13th, 1 on the 17th + 2 more on the 19th – first recorded last year) and Nomophila noctuella (regular singles from mid month onwards).

An interesting moth was brought to me by one of the members of staff, found underneath the clubhouse security lights on the 1st – a Garden Tiger. This is the first record for the site since 1997.
September
Warm, sunny days resulting in dry clear nights dominated the month, restricting moth numbers in the traps. Also not helping was the Purdis plague of wasps, which continued right up until the end of the month. Not surprising really considering that 6 nests have been discovered in the vicinity of the trapping area! Lights were run on 10 occasions, with the night of the 2nd being the best with 56 species. 109 species were seen in total (macros and micros).

The good numbers of Hedge Rustic seen in August continued until the middle of the month, with 8- 10 appearing each time. Feathered Gothic also picked up, with a maximum of 20 on the 5th. However, numbers of Flounced Rustic and Lesser Yellow Underwing were well down, a trend that has been noted on the Suffolk Moth Group nights on Fridays also. The migrant White-point appeared 3 times, but few other migrants were noted; only a single Dark Sword-grass on the 5th. Heath Rustic had a good year with singles trapped on 4 dates with 2 on the 11th. The BAP species Lunar Yellow Underwing was also on a high, with 11 appearing in total with 6 the highest number on the 11th. Another BAP, the Square-spotted Clay last appeared on the 3rd. The Centre-barred Sallow is a very rare moth at the site; the one trapped on the 2nd was only the 3rd record in 8 years recording here. Another surprising record was a Merveille du Jour on the 10th – this is the earliest record for the site, with it normally appearing in October. Other odd records of possible interest were: Autumnal Rustic (in good numbers), Flame Carpet (2 on the 19th) and Pink-barred Sallow (26th). The 30th produced a plethora of interesting records for the site: Flounced Chestnut, Red-green Carpet, Mullein Wave, Beaded Chestnut and a Satellite (an individual, which hadn't expanded its wings, somehow got inside the trap – it must have crawled!).

Micros were few and far between with the following of possible note: Crambus hamella (3 on the 2nd), Agriphila latistria (also on the 2nd), Acleris emargana (11th), Chrysoteuchia culmella (a very late one on the 16th) and Ypsolopha sequella (on the 19th).

Daytime discoveries this month were all larvae: Fox Moth (6th), Buff-tip (20th feeding on Oak) and Yarrow Pug (a caterpillar found by searching Yarrow seedheads on the 27th).

Dunwich Heath National Trust Reserve - July to September 2002 - by Mark Cornish
July
July was a productive month. The most numerous species were: True Lover's Knot (100's trapped most nights) along with Scarce Footman, Large Yellow Underwing, Smoky Wainscot and Dark Arches. Several notable species were recorded reflecting the trap's location in relation to the various habitats. Coastal species included Oblique Carpet, Coast Dart, Saltern Ear and several Kent Black Arches, Star-worts and Shore Wainscots. Reedbed species included: Silky, Brown-veined, Twin-spotted and Fen Wainscots (with hopefully White-mantled to appear) and Reed Dagger. Other notable species included Suspected, Buff Footman and Dark Spectacle and good numbers of Archer's Darts, with the larvae of Broad-bordered Bee Hawk-moth being evident. On the migrant front small numbers of Dark Sword-grass and Silver Y were recorded with pride of place going to a Bedstraw Hawk-moth mid-month and Tawny Wave (31st).
August
August was notable for migrant activity, with two more Bedstraw Hawk-moths and two Convolvulus Hawk-moths (recorded from the wings after a juvenile Robin had taken a liking to them!) Other migrants were: White-speck, 3 Bordered Straws (2 on 29th), good numbers of White-points (40 in total with 7 on 16th) & Dark Sword-grass (17 in total with 5 on 17th) and large numbers of Silver Y's (which also coincided with an influx of Painted Ladys). Also notable were good counts of Angle Shades (50 on 16th and 60 on 18th), Vine's Rustic (10 on both 16th & 18th) and Cabbage Moth (7 on 18th, otherwise scarce) perhaps indicating a period of immigration. There were good numbers of Beautiful Yellow Underwings and Pine Hawk-moths (6 trapped one night) at the start of the month. Most notable was a Butterbur (13th), Oblique Carpet (19th, second record after one on 03/07), Webb's Wainscot (several), Reed Dagger and Cream-bordered Green Pea (second for year). Six-striped Rustic, Sharp-angled Peacock, Feathered Gothic, Frosted Orange, Bulrush & Large Wainscots, Copper & Red Underwings were also added to the year's list.
September
The month began with the appearance of good numbers of Heath Rustics and appearance of Centre-barred Sallow, though only a low numbers of species. A superb Convolvulus Hawk-moth was found on the Barn (2nd) bringing the total to three for the year, and a fourth more richly marked individual was in the trap (4th). Small numbers of Dark Sword-grass and White-point continued to be recorded in the first week. Lunar Yellow Underwings (3 dates) were noteworthy and Feathered Ranunculus, Pink-barred Sallow, Brick and Lunar Underwing appeared mid-month. In the last week Lunar Underwings were now abundant and: Black Rustic, Deep-brown Dart, Sallow and Barred Sallow appeared along with several notable Feathered Brindle, Flounced Chestnut (peak of 20 on 29th) and a Dark Spectacle (29th). This brought the total number of macro species to 325 for the year.

Melford - January to August 2002- by Darren Underwood
Following is a brief summary of my moth trapping activities around Long Melford in south-west Suffolk. All the light trapping is carried out in a very average sub-urban garden using either a 125W Skinner trap or (sometimes) a Heath trap. I've trapped here for around two years now and the garden has a list somewhere around the 300 species mark (I think). The highlight of the previous two seasons was the Red-necked Footman trapped last year, plus some more local species of the area, most of which are associated with the surrounding countryside; Pretty Chalk Carpet, Scarce Silver-lines, White Satin, Dark Umber and Barred Red being examples.

The 2002 mothing year began with a Winter Moth on the kitchen window on January 5th. Although I didn't run my garden trap at all during the first part of the year, several winter species were recorded, thanks to the security lights at Long Melford Village Hall. Species seen there included Early Moth (January 31st), Acleris hastiana (February 1st), Pale Brindled Beauty and Agonopterix heracliana (both February 10th), Dotted Border (March 4th) and March Moth (March 5th), plus an Early Thorn seen in a friend's kitchen on March 9th. The first outing for the trap (March 21st) added Hebrew Character, Common Quaker, Clouded Drab and Diurnea fagella to this list. Things improved further on March 31st when the numbers of both moths and species trapped increased. A male Muslin Moth was welcome and was joined by Double-striped Pug and Twenty-plume Moth (Alucita hexadactyla). The first of several examples of The Streamer was also found at the Village Hall on this date (a really brilliant moth).

Anticipation grew as April arrived and the species list around the village began to lengthen with Early Grey, The Engrailed, Shoulder Stripe and Red-green Carpet all new additions to the Village Hall list, whilst the end of the month produced two good species whilst at work in nearby Lavenham; Scarce Tissue on 24th and – best of all – a Sloe Carpet on 25th. The tiny Micropterix calthella was again found at Long Melford sewage works this year; feeding on the pollen from buttercups.

New species emerged in ever increasing numbers as May and June passed and garden highlights included two Scarce Tissues, Pale Tussock, Bee Moth, Lozotaenia forsterana, Large Tabby (Aglossa pinguinalis), the first (of very few) Rush Veneers (Nomophila noctuella) this year, Barred Straw, Buff-tip, Poplar Grey, Clouded Silver and The Clay amongst other more common species. National Moth Night (June 15th) produced the first 50+ species catch of the year with Small Fan-foot, Argyresthia cupressella, Scorched Carpet, Figure of Eighty, Small Clouded Brindle, and Spruce Carpet being the more interesting species trapped. Sixty three Heart and Darts helped to boost the numbers!

A Leopard Moth found in the road by the house on July 2nd got the month off well. The usual 'common' species dominated the month until 27th, when three new macro species were added to the garden list in one night; Orange Moth (a rather worn male), a smart Double Lobed and Pine Hawk-moth (completing the list of commoner hawk-moths for the garden – Small Elephant doesn't occur around here, so a nice vagrant next please). This proved to be the best night so far this year for the trap with other quality species joining the list; Gold Triangle (Hypsopygia costalis), Meal Moth (Pyralis farinalis), Ypsolopha dentella, Early Thorn and Dusky Sallow included, along with a total of 15 Scalloped Oaks.

Another very good night was had on August 2nd with Least Carpet, Canary-shouldered Thorn, Oak Hook-tip, Swallow, Coxcomb, and Pebble Prominents, Herald, Copper Underwing, Evergestis pallidata and Phlyctaenia coronata being the stars. Silver-Ys seem to have been very scarce this year (around this way anyway), so the eight trapped on August 10th were welcome, as were Mouse Moth and The Lychnis on 13th. Three more species were added to the garden list on 16th; Old Lady (about time!), Lesser-spotted Pinion and Six-striped Rustic. These were joined by only the second garden record of Chinese Character (a species which somehow ought to be more common than it is, especially when its main foodplants – hawthorn and blackthorn – are abundant) and 37 Lesser Yellow Underwings. The month (and this report) ended with 40 Large Yellow Underwings in the trap – the shape of things

Field reports
Due to the large number of field meetings covered in this newsletter write-ups I have kept comments to a minimum.
SMG Moth Night - Clare- 14th June
This country park in the west of the county had been visited a few years ago by the group for a moth evening. The aim behind this meeting was to gain more records from this relatively under-recorded part of the county. Moth of the night was the Poplar Kitten which arrived near the end of the evening. Traps were operated along the disused railway line and along the paths between the lakes. Species of interest included; Agapeta zoegana, Phlyctaenia perlucidalis, Small Yellow Wave, Scorched Wing, Orange Footman, Alder Moth, Large Nutmeg, Marbled White-spot, both Beautiful and Plain Golden Y's with a total of 89 species.
SMG Moth Night - Kings Forest - 21st June
Due to a locked gate (which shouldn't have been) we were not able to trap on Chalk Lane as planned at this meeting which was a shame as conditions were quite favourable. As a result we re-located to the picnic site nearby and recorded amongst other things; Olindia schumacherana, Clay Triple-lines, Fern, Pretty Chalk Carpet, Clouded Magpie, Satin Beauty, Lobster Moth, Orange Footman, Purple Clay, Grey Arches and Alder Moth. 104 species in all.
Moth Night - Raydon Great Wood - 22nd June
An ancient woodland site near Hadleigh. Species of interest included; Gold Swift, Eidophasia messingiella, Pseudosciaphila branderiana, Poplar Lutestring, Blotched Emerald, Pretty Chalk Carpet, Orange Moth and Grey Arches. 110 species in all.
SMG Moth Night - Dunwich Heath - 28th June
A prime heathland site which is now being regularly recorded by Mark Cornish. Pre-MV activity turned up the characteristic feeding signs of Foxglove Pug larvae, feeding in the flowers of foxglove spun closed by the larvae. Further searches during the trap rounds later in the night discovered a Broad-bordered Bee Hawk-moth larva on honeysuckle.

At the light species of interest included; Monopis monachella, Coleophora orbitella, Schoenobius gigantella, Donacaula forficella, Phlyctaenia perlucidalis, Pempelia palumbella, Narrow-winged Pug, Four-dotted Footman, Broom Moth, Shark, Miller, Silky Wainscot.Pinion-streaked Snout and Dotted Fan-foot. 94 species recorded.
Moth Night - Dunwich Beach - 29th June
Lights were operated on the vegetated shingle bank just north of the Dunwich Beach car park and close to the Dingle Marshes reserve. Species of note included; Monochroa palustrella, Pyrausta despicata, Phlyctaenia perlucidalis, Nyctegretis lineana, Grass Emerald, Rosy Wave, Water Ermine, Striped Wainscot and Dotted Fan-foot. 54 species, which seemed rather low given the weather conditions.
SMG Moth Night - Cutlers Wood - 5th July
A privately owned ancient woodland not too far from Ipswich. The bluebell feeding Eana incanana bears a passing resemblance to some of the Cnephasias which could account for the lack of records we have for this species recorded on the night. Later in the evening a Beautiful Carpet was probably the moth of the night. I have few records of this species for Suffolk. Other species recorded included; Incurvaria oehlmanniella (a species new to the checklist), Ypsolopha nemorella, Pseudosciaphila branderiana, Pempelia formosa, Poplar Lutestring, Common Lutestring, Blotched Emerald, Plain Wave, Purple Clay, Grey Arches, Suspected, Slender Brindle and Shaded Fan-foot. 108 species in all.
Moth Night - Offton Middle Wood - 10th July
Another privately owned ancient woodland. Species recorded included; Eana incanana, Pseudosciaphila branderiana, Poplar Lutestring, Common Lutestring, Pretty Chalk Carpet, Maple Pug, Clouded Magpie and the Orange Moth. 82 species
SMG Moth Night - Carlton Marshes - 12th July
The previous visit to this reserve last year followed some heavy rain at the site and the same happened again this year. This seemed to keep the numbers of moths down but the following were noted; Ghost Moth, Yponomeuta cagnagella, Hedya ochroleucana, Schoenobius gigantella, Nymphula stagnata, Ebulea crocealis, Nascia cilialis, Garden Tiger, Water Ermine, Miller, Small Dotted Buff, Marbled White Spot, Oak Nycteoline, Pinion-streaked Snout and Dotted Fan-foot.
115 species recorded.
Moth Night - RAF Barnham - 13th July
A rather quiet night with some of the more common heathland species amongst the 50 species recorded. Of possible note were; Pleurota bicostella, Bordered Beauty and Nut-tree Tussock.
SMG Field Meeting - West Stow Country Park - 14th July
This meeting was cancelled
SMG Moth Night - Howlett Hills - 19th July
This SWT reserve near Mildenhall has not previously visited by the moth group and has fen, scrub woodland and conifer plantation habitats. Of the 159 species on the night Mere Wainscot was of most interest to those present. Other species recorded included; Ghost Moth, Anacampsis blattariella, Piniphila bifasciana, Adaina microdactyla, Brown Scallop, Satyr Pug, Grey Arches, Dog's Tooth, Dusky Brocade and Dotted Fan-foot.
SMG Moth Night - North Warren - 26th July - by Neil Sherman
Friday 26th July 2002 will be a night never forgotten for all the people present at the moth event that night. No one at the start of the evening thought it was going to be such an exceptional night. On arrival, conditions looked good but not perfect for mothing, with warm a temperate but clear skies and a bit of a sea breeze. 9 people turned up, with 10 lights (nine 125 watt MV lights and one 11 watt actinic) being put out in the various habitats around the back of the mere, mainly trying to cover the reedbed to find the White-mantled Wainscot. The sheet was placed on the edge of the reedbed and woodland, in probably the breeziest spot. Once it was dark, the lights were switched on and, as seems to be typical in recent times things were a bit slow with only a few moths flying in (and being blown away by the wind!). This gave everyone time to get their specimens brought along from home to be identified!

It was soon decided at around 10.45p.m. to go round and look at the traps, with only around 35 species on the list. The first trap, certainly more sheltered than the sheet, was quite busy adding quite a few to the total. This was repeated at all the other lights apart from one in a cold spot that had less. It looked like as usual the sheet was in the worst place! One of the traps placed on the edge of the reedbed was most uncomfortable to look in, with it absolutely swarming with midges (non-biting!). Unfortunately for me, it was one of mine so it was my job to hold my breath and check the contents, while everyone else stood at a discrete distance! What of the moths? There were plenty flying around each light, with the numbers of Magpies being too many to count, along with large numbers of footmen and various micros. Of possible interest were: Chocolate-tip, Webb's Wainscot, Shaded Fan-foot (in good numbers), Brown-veined Wainscot, Pinion-streaked Snout, Caloptilia stigmatella, Bordered Beauty, Acleris cristana, Small Rufous, Lunar Yellow Underwing, Lesser Cream Wave, Double Lobed, Ostrinia nubialis, Cream-bordered Green Pea and Kent Black Arches. Upon returning to the sheet after the mammoth trap round, the total was boosted to 182 species! It was found that the wind had dropped here, with moths swarming around the sheet. Garden Tiger was added immediately, and a quick look added a few more. After a short respite for refreshments and identification of a couple of pugs collected (Slender and Satyr Pug), it was off again to start packing the lights away, with it being about 2 o'clock! Unfortunately Jon Clifton had to leave at this point, having to get back for work the next day.

The discussion on the way to the first trap was all about breaking the previous record set at Redgrave fen last year (190 species). As it turned out, this was beaten and then some! All the traps were still heaving with insects, including the midge trap that was even more uncomfortable to clear away! Moths of possible note added to the total this time round were: Chevron, Epinotia quadrimaculana, Silky Wainscot, Dotted Clay, Evergestis pallidata, Ypsolopha nemorella, Broom Moth, Pretty Chalk Carpet, Sharp-angled Peacock, Crescent, Gem, Dog's Tooth, Adaina microdactyla, Triple-spotted Clay, Flame Carpet, Cochylidia implicitana, Agriphila selasella, Reed Dagger, Dotted Fan-foot and 2 specimens of our target moth, the White-mantled Wainscot. The sun was just starting to come up as we got to the last trap – good job too as Matthew's generator ran out of petrol while we were clearing it away! A final tot up at the end of the night in my notebook produced a total of 251 species! With both Jon Clifton and Tony Prichard taking micros away to be identified, this total is only going to get higher!

I finally got home at about 4.30a.m on the Saturday morning, having to dodge past the local milkman who, by his quizzical look was not expecting anyone to be around that early in the morning! I know others who had to travel home further didn't get in till 6 a.m! Its good in one way that not all moth nights were like this one – there were certainly some very tired looking faces at the Shingle street moth night on the Saturday evening!
Moth Night - Shingle Street - 27th July
A few recorders with plenty of stamina attended this moth night, at this regularly recorded vegetated shingle site. Star of the night was Cydaena dentalis, an extremely pretty pyralid, which is not a species I had expected to see in Suffolk. The literature quotes this species as having been previously recorded in "Suffolk" but I have not managed to track down anything more specific than this at the moment. Of the 85 species recorded those of more note included; Aspilateryx tringipennella, Monochroa palustrella, Scrobipalpa costella, Calamatropha paludella, Schoenobius gigantella, Pima boisduvaliella, Homeosoma nebulella, Agdistis bennetii, Ground Lackey, Garden Tiger, Dog's Tooth, Star-wort, Reed Dagger, Saltern Ear and Dotted Fan-foot.
Moth Night - Kirton Creek - 31st July
A mid-week visit to this privately-owned site close to the salt-marsh around Kirton Creek. My hope was to turn up Ground Lackey and Sandhill Rustic and I was not disappointed. An amusing interlude during the trap round on the salt-marsh was provided when someone decided that they could take a short-cut between two of the traps, only to find themselves sinking into one of the smelly mud creeks. The morale of the story? Follow someone else when moving between traps in the dark and stop immediately when you hear the splash and screams.

145 species were recorded in all with of possibly more interest; Phalonidia affinitana, Epiblema foenella, Agdistis bennetii, Rosy Wave, Dark Spinach, Triple-spotted Pug, Clouded Magpie, Bordered Beauty, Garden Tiger, Dog's Tooth, Campion, Reed Dagger and Olive.
SMG Moth Night - Benacre Broad - 2nd August
This moth night was chosen as part of the group's ongoing monitoring and surveying for the White-mantled Wainscot. This species had not previously been recorded this far north but given accounts of the reed-bed it seemed possible that it would occur there. Everyone had to carry their kit along what seemed a reasonably long path to the top end of the broad. Access to the broad was rather limited due to the over-grown tracks but we positioned lights either side of the broad and in nearby woodland. Activity around the sheet was particularly disappointing but fortunately the traps did not let us down with 185 species recorded on the night and, yes, we did record White-mantled Wainscot.

Species of note included; Ghost Moth, Aspilapteryx tringipennella, Scrobipalpa costella, Anacampsis blattariella, Calamatropha paludella, Bordered Beauty, Chocolate-tip, Garden Tiger, Kent Black Arches, Square-spotted Clay, Dog's Tooth, Reed Dagger, Fenn's Wainscot, Crescent, Small Rufous, Silky Wainscot, Pinion-streaked Snout and Shaded Fan-foot.
SMG Moth Night - Framlingham Mere - 9th August
A visit to this well-known tourist spot where the mere is recovering from having been drained and dredged in recent years. Results were rather disappointing with 59 species and Crescent and Webb's Wainscot being the only species of note. In addition, trying to drive through the drunken rabble outside the nearby pub at the end of the evening did not promote this as a site to return to in a hurry.
SMG Moth Night - Kenton Hills - 16th August - by Neil Sherman
The target species at this event for the more optimistic members was the White-spotted Pinion, with the woods around the car park containing a lot of elm. On a warm but clear night, 5 lights were run within this area, with 3 more along the track between the pine-wood and a wet wooded area. The traps in the latter area turned out to be in the better position with many more moths appearing in the traps.

137 species were recorded but unfortunately the White-spotted Pinion was not among them. Plenty of Lesser-spotted Pinions appeared at the start of the evening to get the hopes up, but no other 'pinions' put in an appearance. Other species of possible interest were: Agriphilia selasella, Epiblema foenella, Ostrinia nubilalis, Clavigesta purdeyi, Clouded Magpie (2 adults - numerous larvae were found at the site last year), Square-spotted Clay (over 10 seen), Dark Spinach, Archer's Dart, Black Arches (in large numbers and has been common elsewhere in the county this year), Sharp-angled Peacock, Flame Carpet, August Thorn (2), Dark Spectacle and Webb's Wainscot. Discovery of the night was the 15 specimens of Dioryctria sylvestrella, a new species to all present. This is the third Suffolk site for this species, the others being Tunstall Forest and Ipswich Golf Course last year. (Ed.- identity of this species confirmed by Mark Parson at the BENHS annual exhibition and this species has turned up at other sites during the year)

Square-spotted Clay © Neil Sherman
Moth Night - Minsmere - 17th August
One of the group's regular mothing venues at this well-known RSPB reserve. On this occasion recording was concentrated in the areas of the sluice and dunes. 79 species with Dark Spinach, Small Wainscot, Crescent, Webb's Wainscot and Pinion-streaked Snout of note.
SMG Moth Night - Orfordness - 23rd August
This was the group's second visit to this National Trust Reserve and weather conditions were more favourable. Recording effort was concentrated on the reed-bed and salt-marsh areas not too far from the volunteer's accomodation. Cydaena dentalis was recorded for a second time this year, after being spotted by some sharp eyes just in time to avoid being stood on as we were going through a trap in the morning. Sandhill Rustic and Marbled Green were notes of particular interest. Of the 76 species recorded others of note included; Epiphyas postvittana, Pima boisduvaliella, Agdistis bennetii, Ground Lackey, Rosy Wave, White-point, Star-wort, Frosted Orange, Webb's Wainscot and Large Wainscot.
Moth Night - Wolves Wood - 24th August
A rather quiet night moth-wise at this ancient wood between Ipswich and Hadleigh with only two species of the 39 recorded being worthy of mention; Olive and Red Underwing. However, the members of the public who came along to this public event did not seem disappointed.
Moth Night - Lower Hollesley Common - 25th August
Another moth night with not much to note apart from some examples of second brood Clay Triple-lines and the migrant White-point.
SMG Moth Night - Barnhamcross - 30th August
Numbers of species recorded continued to drop as the month progressed with only 55 species recorded at this meeting. Of note were Pandemis cinnamomeana, Feathered Gothic and Frosted Orange.
SMG Field Meeting - Lakenheath Fen - 31st August
This meeting was intended to survey the Meadow-rue on the reserve for Marsh Carpet larvae. The adult moth has previously been recorded at the site, including one this year. This was a daytime meeting where I felt we would have no problem tracking down our quarry but I was proven wrong. Fortunately Norman Sills brought along a larva that had been found the previous day and we all familiarised ourselves with the beast before setting off. James Cadbury from the RSPB had also come along on the day and was helping out with the surveying. Norman had fortunately arranged for the foodplant to be marked with sticks which certainly helped us locate the plant now that it was in seed. Despite having some good stands of foodplant there were no sign of larvae and most of the seeds searched seem to have dried off. After searching New Fen and Joist Fen in the morning we moved on to Botany Bay, after traipsing through the wet sedge beds to find most of the Meadow-rue in a poor state (browsed by deer?) we returned rather dispirited and with damp feet having not found any sign of the larvae. The general concensus was that we may have been too late for the larvae as most of the seed-heads were rather dry, this will probably mean that we return next year for a repeat search a little earlier in the year.
Moth Night - Ramsey Wood - 31st August
This ancient wood not far from Wolves Wood could prove to be of interest as it has fallen out of management and earlier in the year turned up Acleris literana. However, nothing as interesting was recorded on this night with Hypatima rhomboidella, White-point, Old Lady and Lesser-spotted Pinion being the more notable of the 47 species recorded.
SMG Moth Night - Kings Forest - 6th September
At this meeting the group finally managed to get onto Chalk Lane to do some recording. Conditions were not ideal and numbers recorded were low (35 species). Of interest was a late adult Pine Hawk-moth, while beating of the nearby pines produced a larva of Pine Hawk-moth. Other species of interest included; Barred Hook-tip, Feathered Gothic and Frosted Orange
Moth Night - Little Blakenham Pit - 7th September
A not ideal night when we returned to this disused chalk pit looking for the Lesser Treble-bar, which had been previously recorded at the site. We did record Treble-bar amongst 11 species noted but not Lesser Treble-bar
SMG Moth Night - RAF Barnham - 13th September
This moth night replaced the one planned for Priestley Wood. 44 species were recorded at this Breck site including Red-green Carpet, Lunar Yellow Underwing, Feathered Gothic, Brindled Green, Pale Mottled Willow and Oak Nycteoline.
SMG Field Meeting - Lineage Wood - 14th September
This field meeting was attended by 3 group members. Leaf-mining records accounted for most of the species recorded on the day but Neil Sherman did have some success with the beating tray and by searching with the following larva found Chocolate-tip on poplar, Common Emerald , Pale Tussock and Angle Shades. 36 species in all.

Pale Tussock © Neil Sherman
SMG Moth Night - Pound Farm - 20th September
A constant influx of hornets was the most memorable thing about this moth night. Moths were present in fewer numbers and included Dusky Thorn, Centre-barred Sallow and Sallow, although we did record 28 species
Moth Night - Barnhamcross Common - 21st September
29 species at this Breck site with Red-green Carpet, Brick, Brown-spot Pinion and Pink-barred Sallow representing some of the autumnal species on the wing. We had hoped to record Dusky-lemon Sallow in the vicinity of the elms on the site but the moth did not put in an appearance. Searching of the ivy blossom growing on the elm trunks proved productive and more productive than the sugar placed on nearby tree trunks.
SMG Moth Night - Lower Hollesley - 27th September
5 species on this cold night, with nothing of real note.
Moth Night - Raydon Great Wood - 28th September
This night followed a similar vein to the previous night although Cosmopterix zieglerella mines on hop growing near the car park were of interest. Moths of interest at light included; Red-green Carpet and Pink-barred Sallow. A measly 8 species!
Moth Night - Ramsey Wood - 4th October
Only 8 species again with Beaded Chestnut and Barred Sallow amongst them.
SMG Field Meeting - Redlingfield Wood/Thornham Estate - 6th October
This leaf-miner recording meeting was attended by several members of the group and started off at Redlingfield Wood. While a couple of members familiar with leaf-miner recording went off to do their own thing. I gave a brief run-down on leaf-miner recording to those less experienced followed by a wander round the wood looking for the various types of leaf-mine.

After lunch at a nearby hostelry we moved on to the Thornham Estate in the afternoon. The first mine recorded was Phyllonorycter platani on the plane trees close to the car park. This venue proved rather more successful with 52 species recorded and including; Phyllonorycter quinnata, Bucculatrix albedinella, Stigmella tiliae and Stigmella suberivora being recorded.

Contact details

Please send any Suffolk moth records, moth articles or other queries to myself (preferably via email) at :
3 Powling Road, Ipswich, Suffolk IP3 9JR
Email : tony.prichard@btinternet.com (also tony.aw.prichard@bt.com )
Suffolk Moths web site (home of the SMG): http://www.btinternet.com/~tony.prichard
SMG Email Discussion Group: http://groups.yahoo.com/group/suffolkmothgroup
Essex County Moth Recorder : Brian Goodey, 298 Ipswich Road, Colchester, Essex. CO4 0ET. E-mail: brian.goodey@dial.pipex.com

The Newsletter
This is the newsletter for the Suffolk Moth Group. It is distributed free to those with email and at a £2 per annum subscription for paper copies. Four issues are produced per year, in March, June, August and November. I am always on the look for articles which will be of interest to moth recorders in Suffolk, although field and site reports should be topical. Articles should arrive by the end of the month preceding the month in which a newsletter is produced, eg. the deadline for articles for the March newsletter is the end of February.

Adverts
ANGLIAN LEPIDOPTERIST
SUPPLIES
Good quality at low prices
Full range of entomological supplies.
MV and actinic Moth traps.
MV, Blended and Black bulbs in stock. Dissection equipment, Chemicals, Microscopes, Generators, Entomological cabinets, collecting tubes etc.
For full details send a SAE to:
PO Box 232, Northwich Delivery Office,
CW8 3FG. Or phone 01263 862068
Website : http://www.angleps.btinternet.co.uk/
Proprietors: J Clifton & A Wander